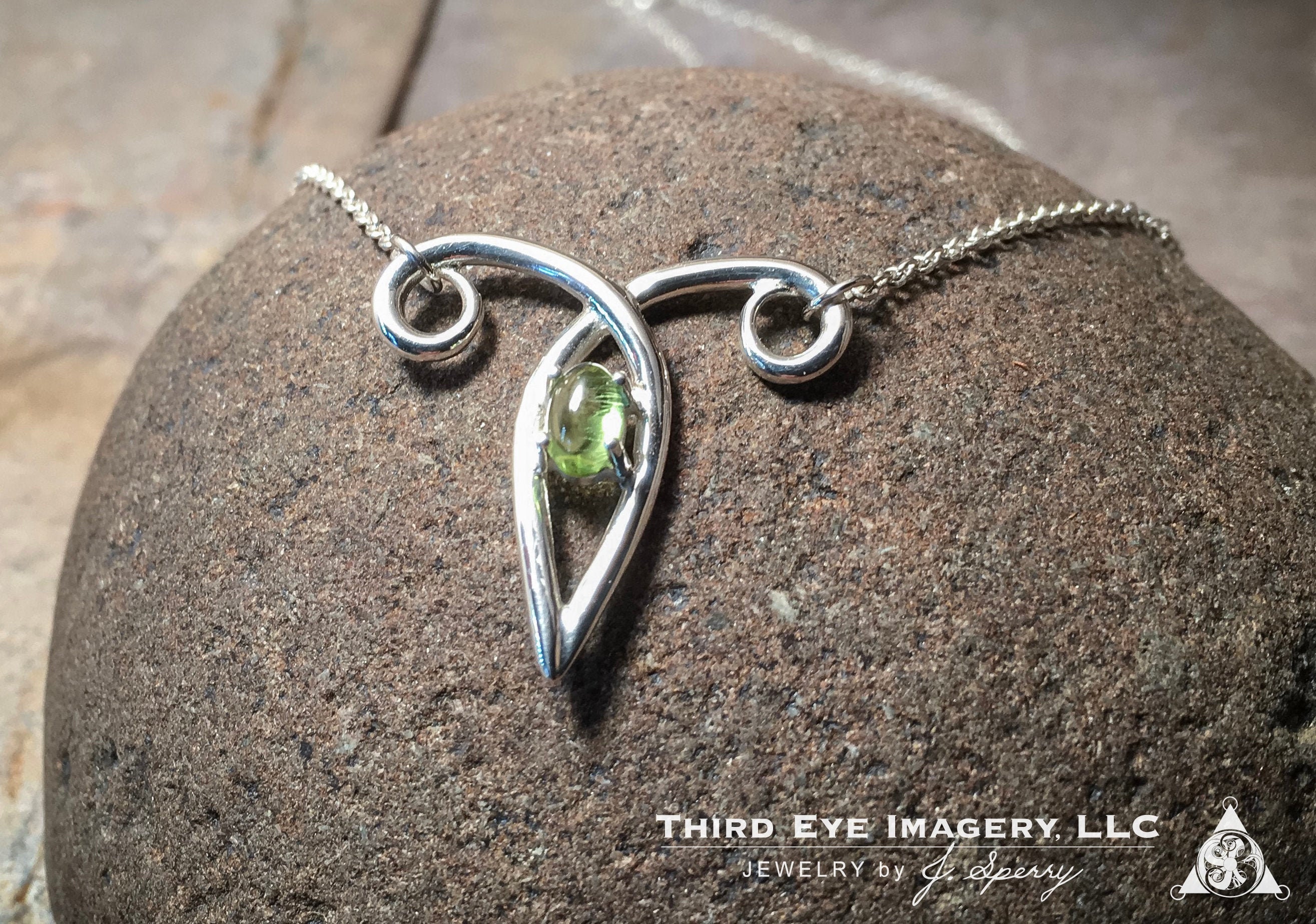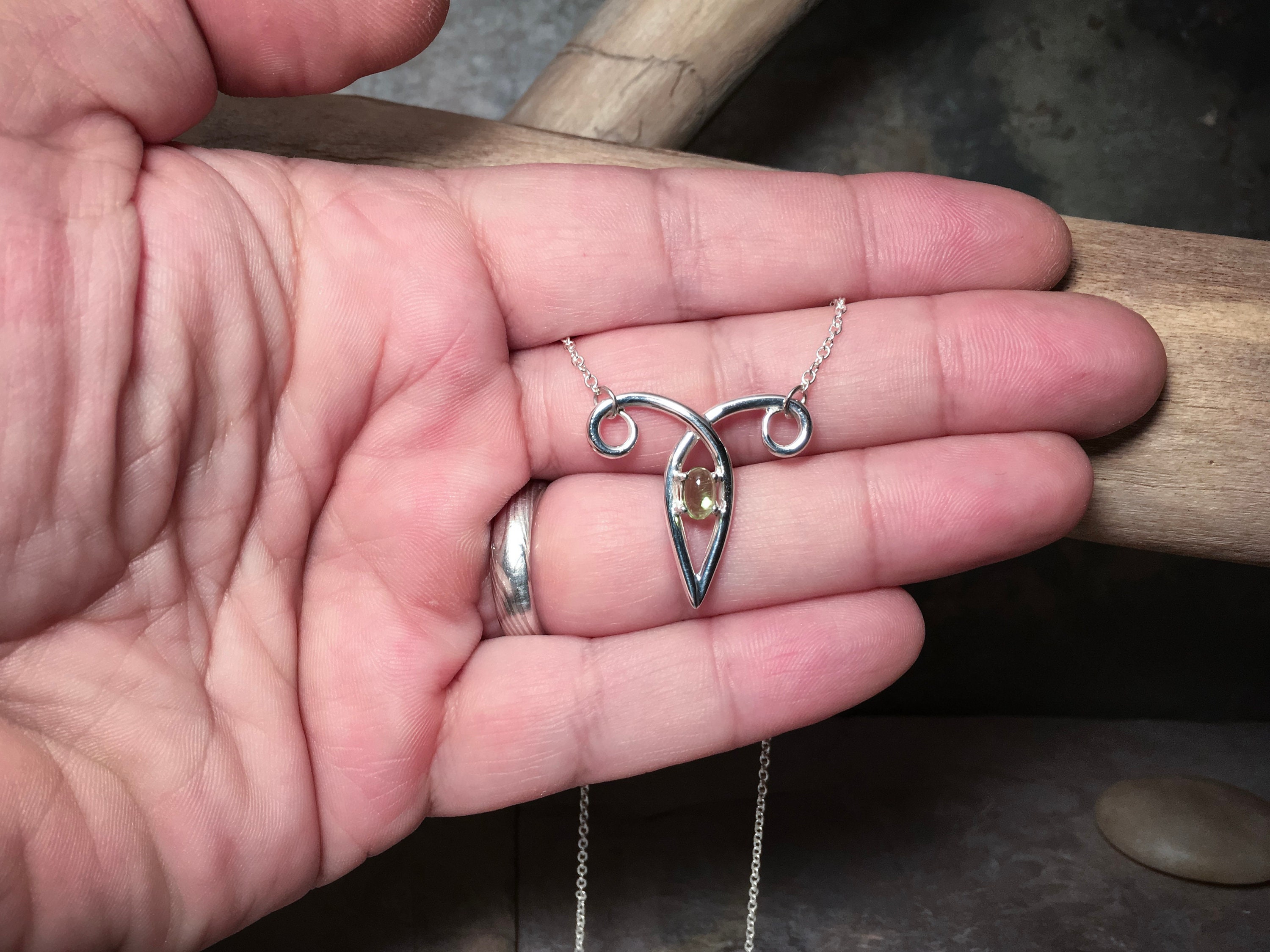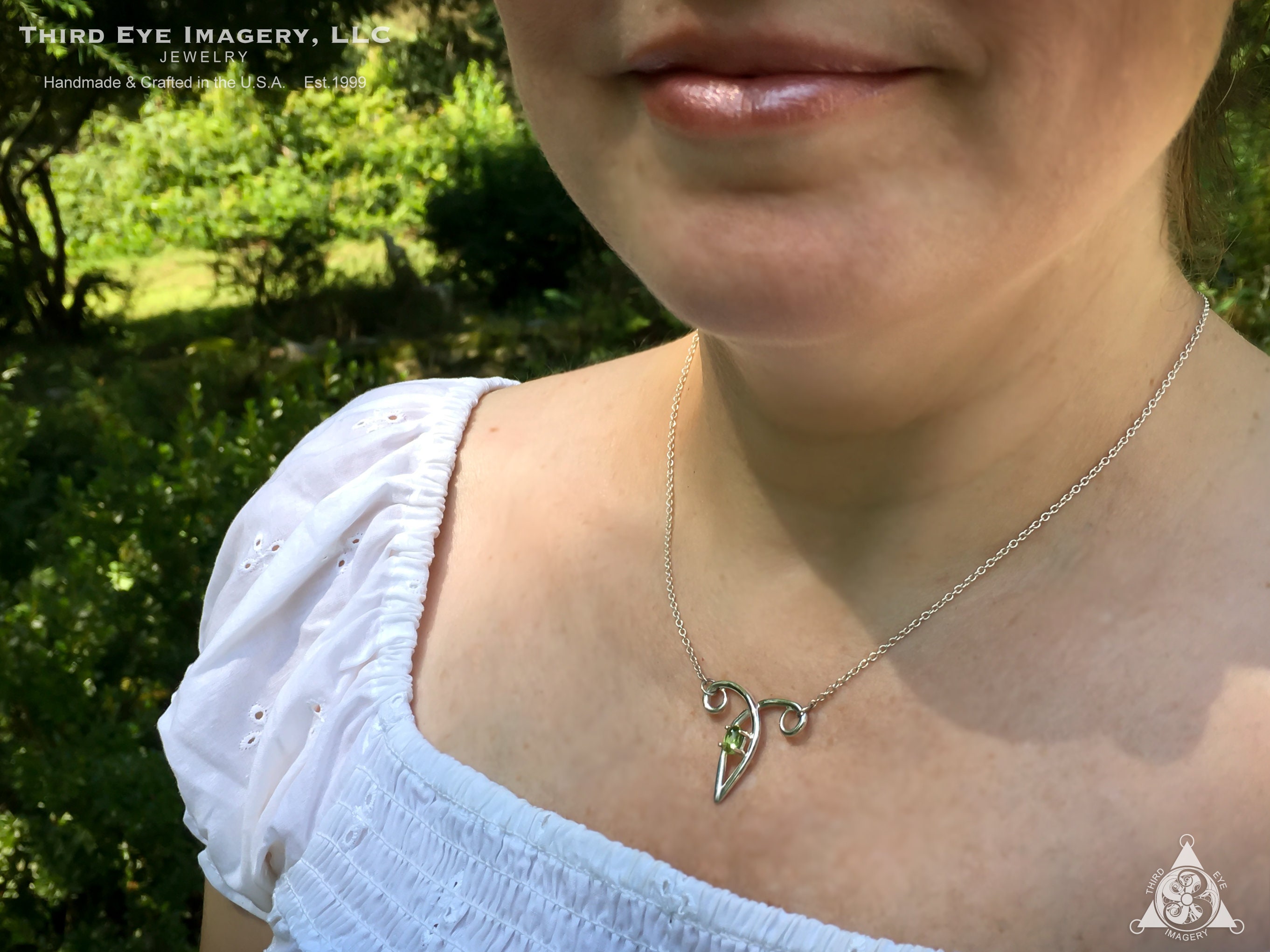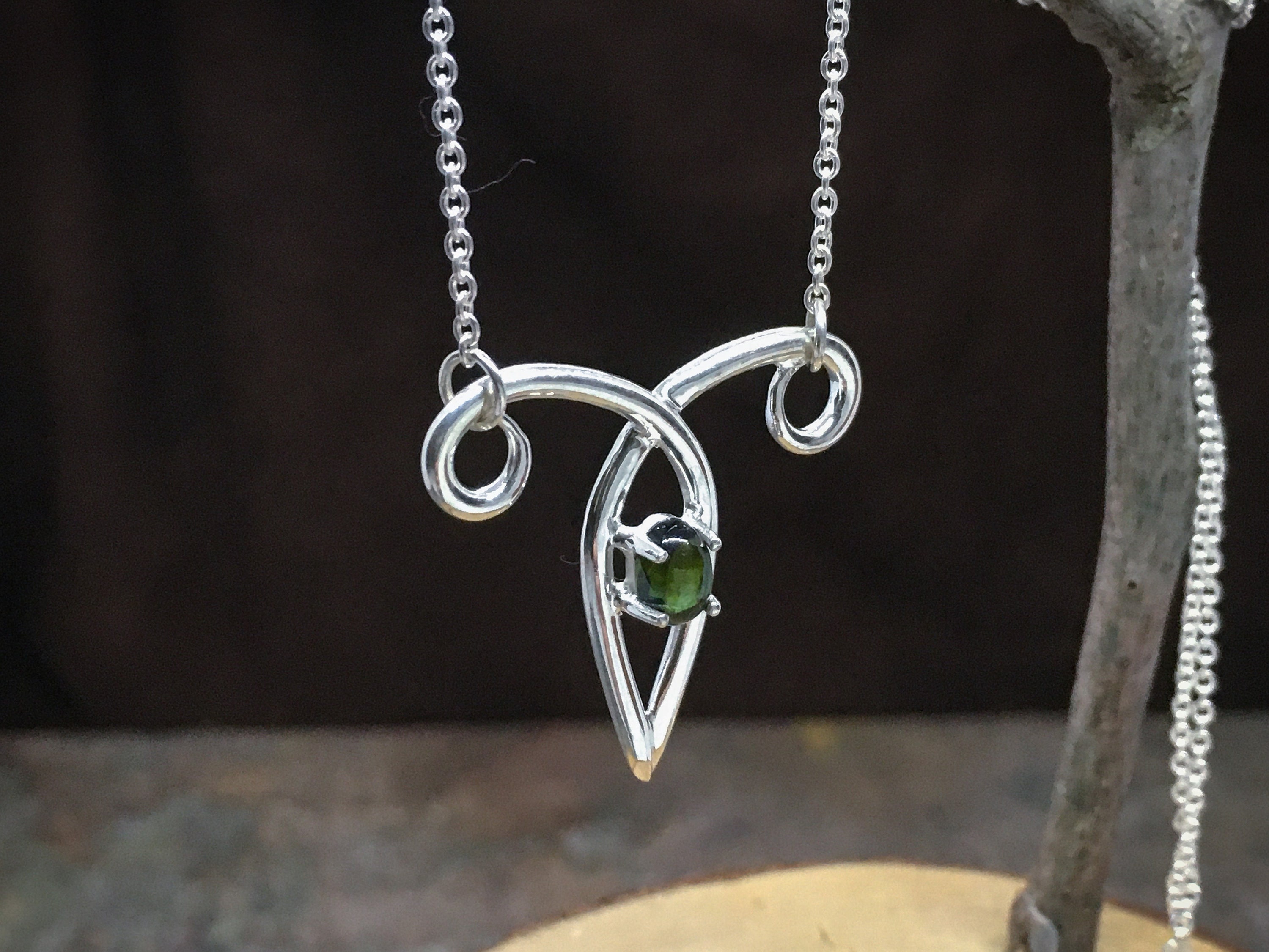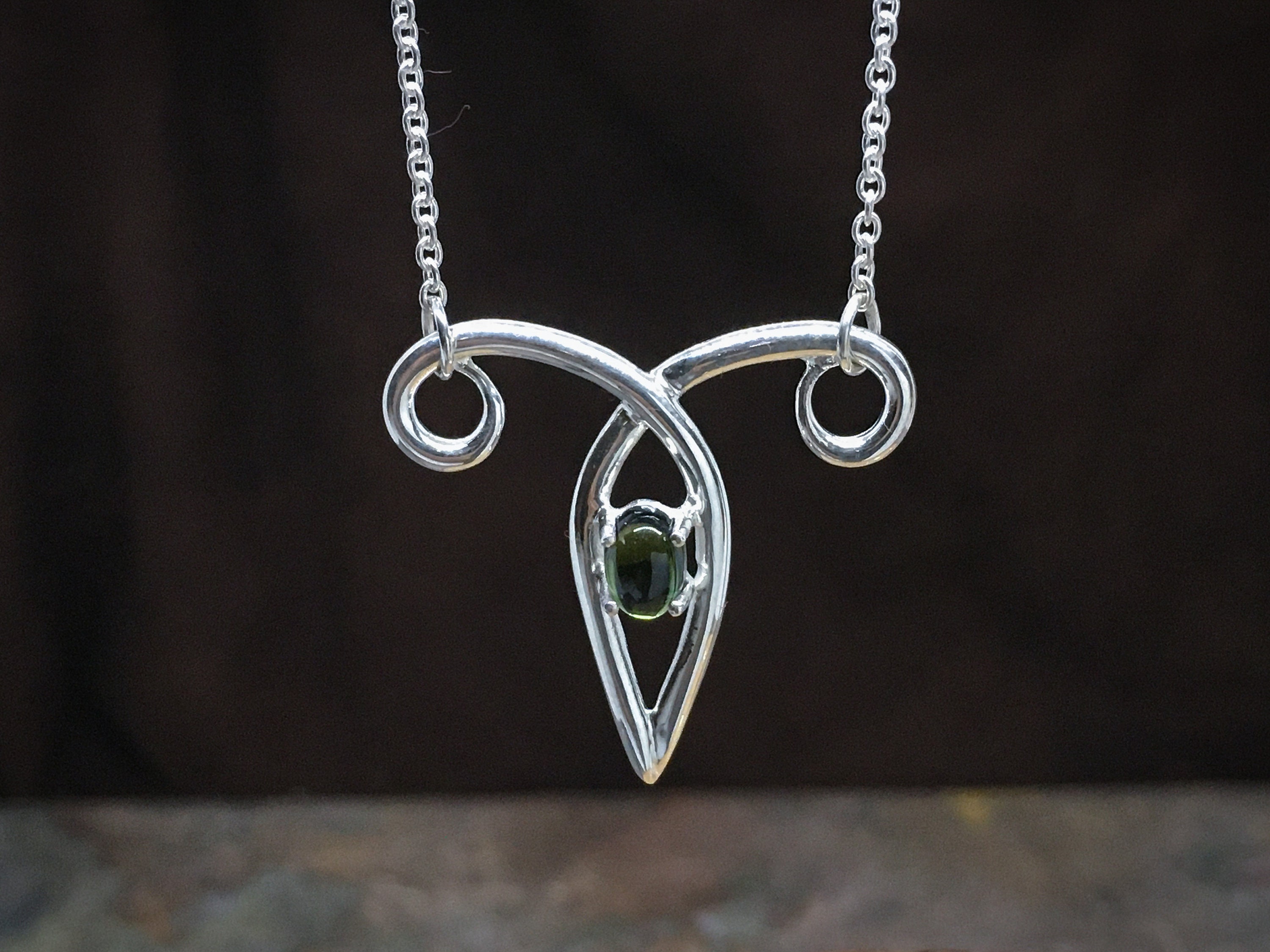 Celtic Tear Drop Necklace in solid Sterling Silver with choice of Genuine Gemstone - Thinking of You Gift, Sorry Gift or Missing You Gift
Thinking of You Gift, Sorry Gift or Missing You Gift. Whether tears of joy or tears of sadness, when tears come it is always something close to the heart. Cherish, remember and keep them close to your heart with our Celtic Tear Drop necklace. This Celtic inspired design consists of middle section cast in solid Sterling Silver. Your choice of gemstone is meticulously hand set and is then attached into a soldered 1.5mm Sterling Silver Cable Chain "w/ lobster claw clasp" with 2 hard silver soldered jump rings.

Necklace Details: Total Length: 17"

Bib Section: Cast Solid Sterling Silver
1" or 26mm tall
1" or 26mm wide
1/16" or 2mm thick (excluding stone)

Gemstone Cut: Cabochon
Gemstone Size: 4mm X 6mm

Gemstones to Choose from:
Mozambique Garnet - Grade: AA,
Peridot - Grade: AA,
London Blue Topaz - Grade: AA,
Garnet "rhodolate" - Grade: AA,
Tourmaline "green" - Grade: A,
Amethyst - Grade: AA,
Citrine - Grade: AA,
Moonstone - Grade: Standard,
Onyx "black" - Grade: Standard,
Jade "jadeite" - Grade: Standard

PRICE DEPENDS ON GEMSTONE CHOSEN
All offered Gemstones are purchased from USA based company and an industry leader in jewelry supplies for 45+ years Stuller.com

Quality: Fine Jewelry "meaning materials & craftsmanship, not size or weight"

Material: Sterling Silver "solid", .925

Gemstones: All gemstones are Genuine and NATURALLY created.

Assembly: All stone setting, silver soldered connections, silver soldered jump rings and assembly is performed in house. Sterling Silver chain used in assembly is machine soldered shut.

Finish: High "mirror like" polish done by hand in house.

Markings: Back is stamped "STER"

Care: Best cleaned with a jewelry cloth (included!). Jewelry comes untreated with NO chemicals to prevent tarnishing, to avoid skin irritations. We encourage you find a silver polish that is safe for your skin type to keep your jewelry shining longer. Tarnish will happened naturally over time and can be accelerated by humidity(h2o), perfumes, colognes, skin creams or even sometimes ones own PH balance. But actually your skins natural oils can help keep your sterling silver jewelry from tarnishing faster. So be sure to wear your jewelry often and when your not be sure to store it in your free suede pouch to reduce oxygen exposure.

Packaging: Jewelry comes in a hunter green suede pouch with tassels and is placed in a white gift box with natural shredded packing material ready to give to that special someone or just brighten your own day.
celtic jewelry, tear drop jewelry, fantasy jewelry, gemstone jewelry, birthstones, natural gemstone, girlfriend gift, mystical jewelry, gift for her, celtic necklace, Thinking of You Gift, Sorry Gift, Missing You Gift