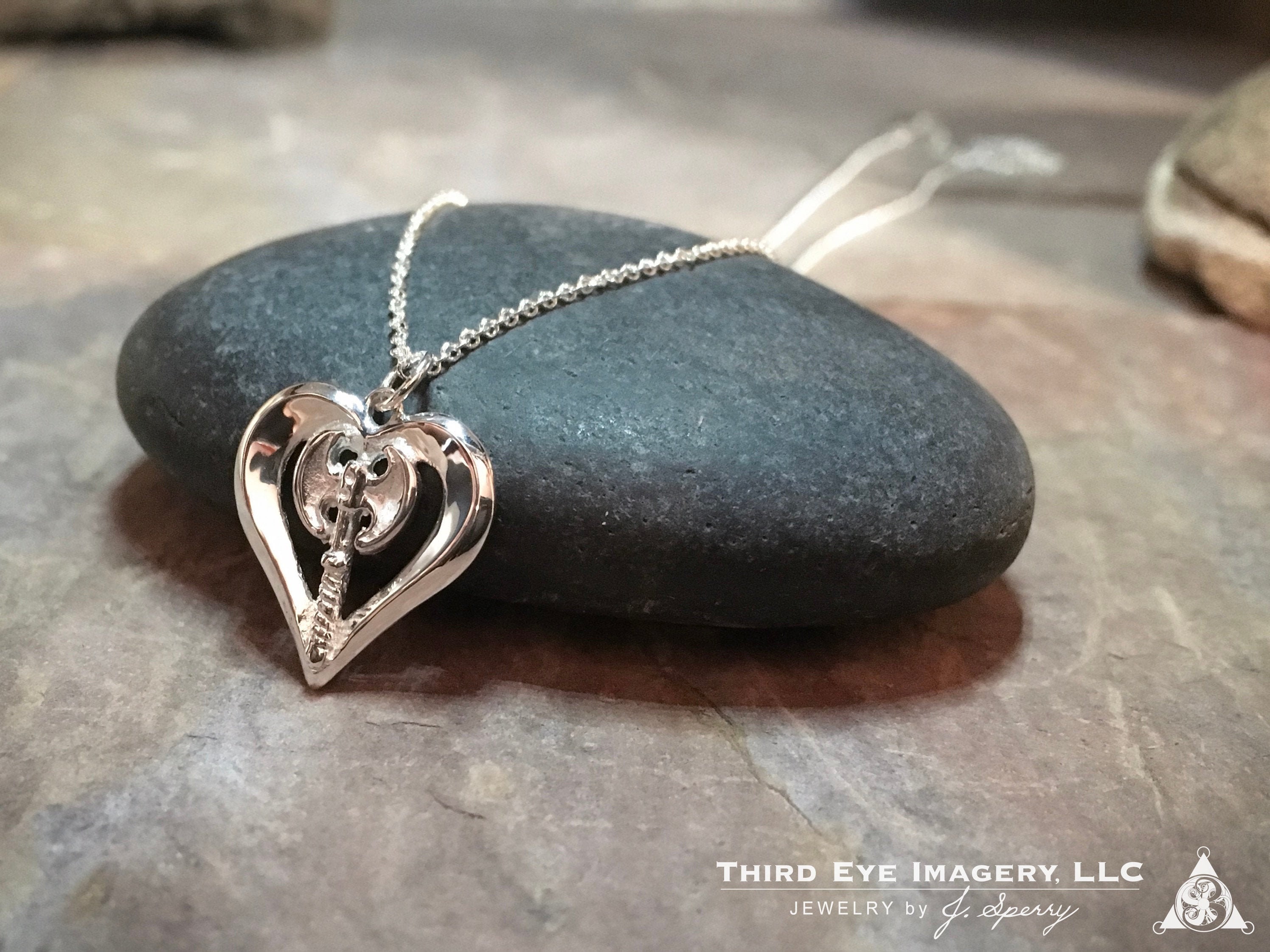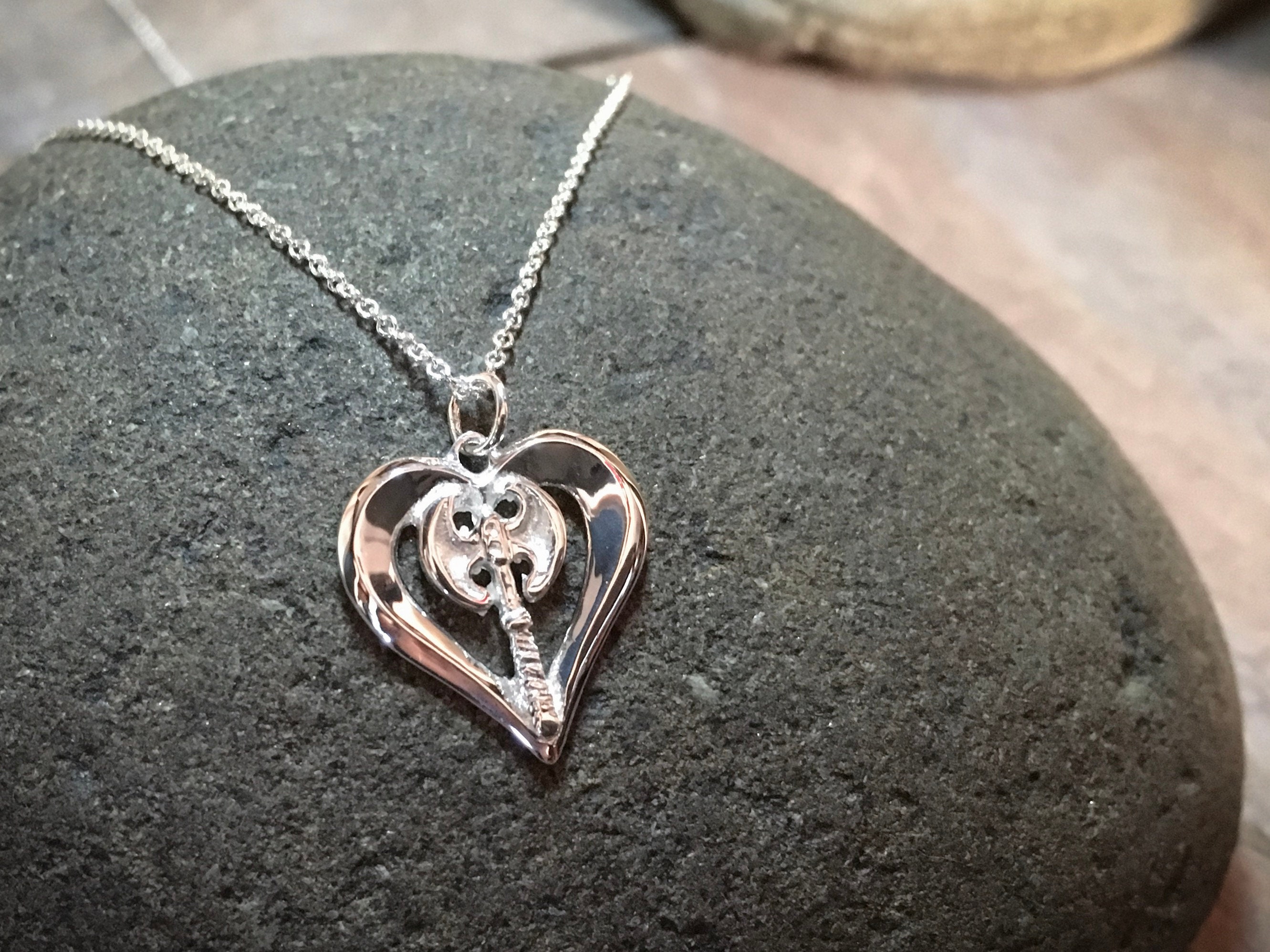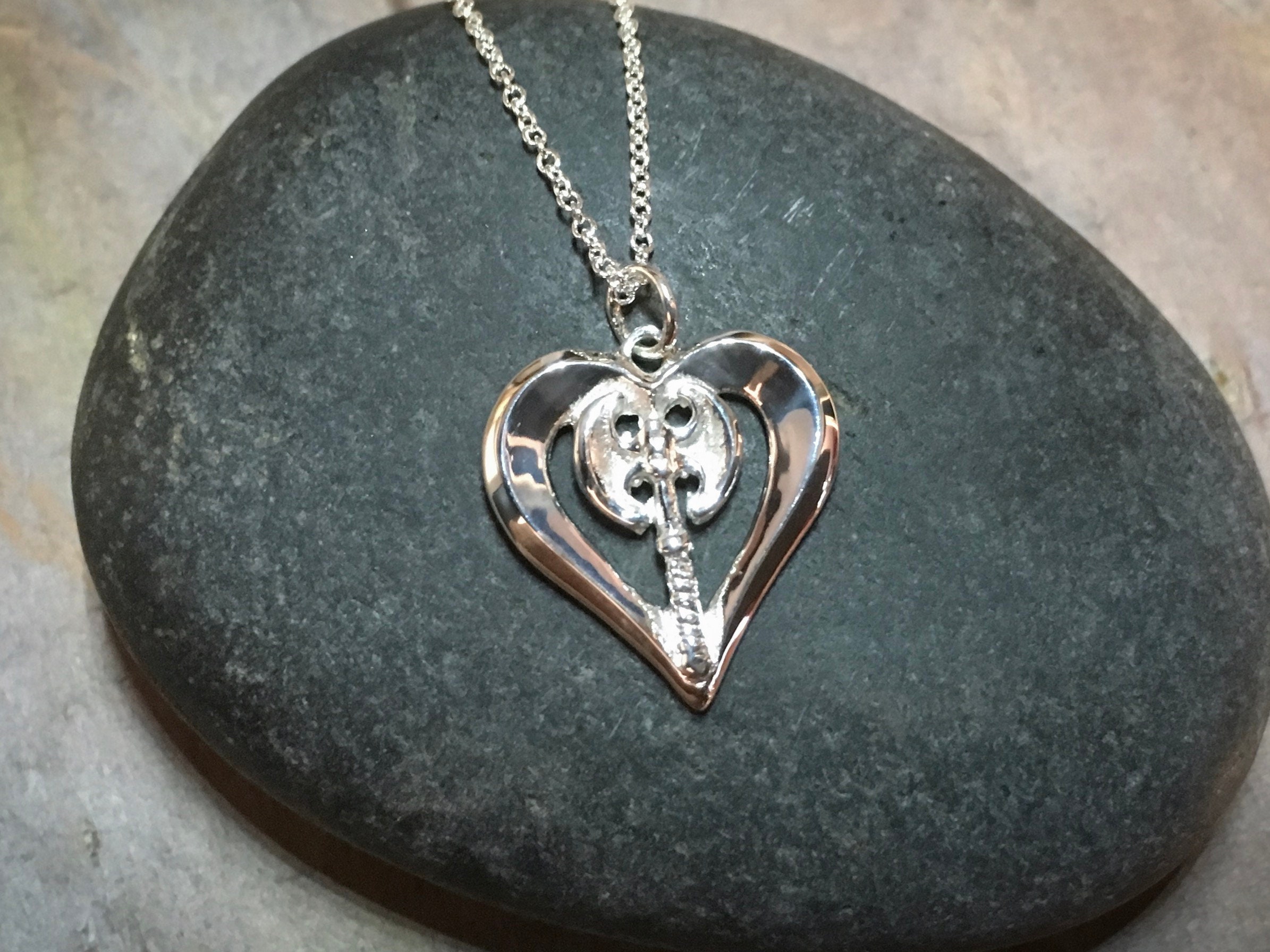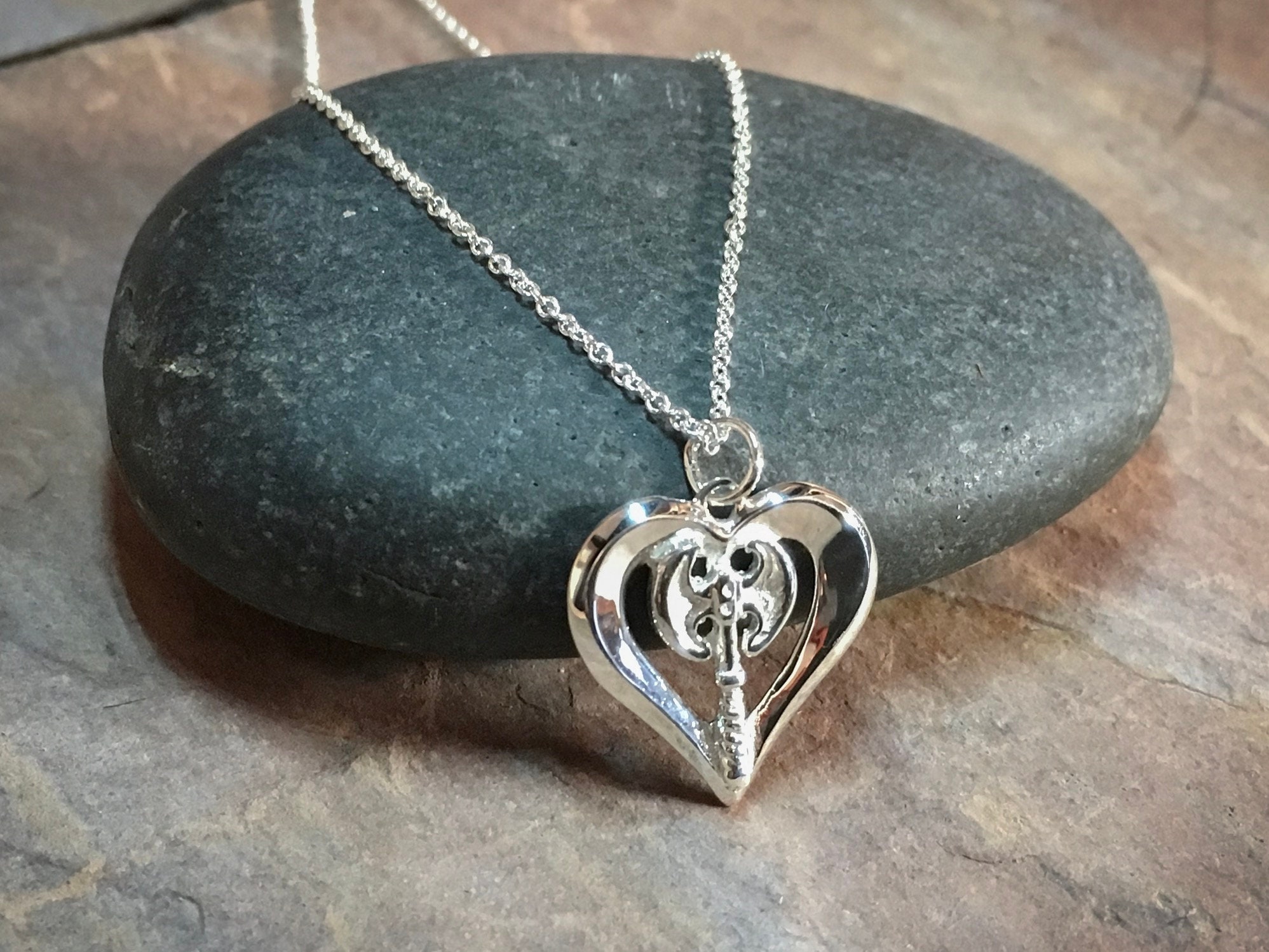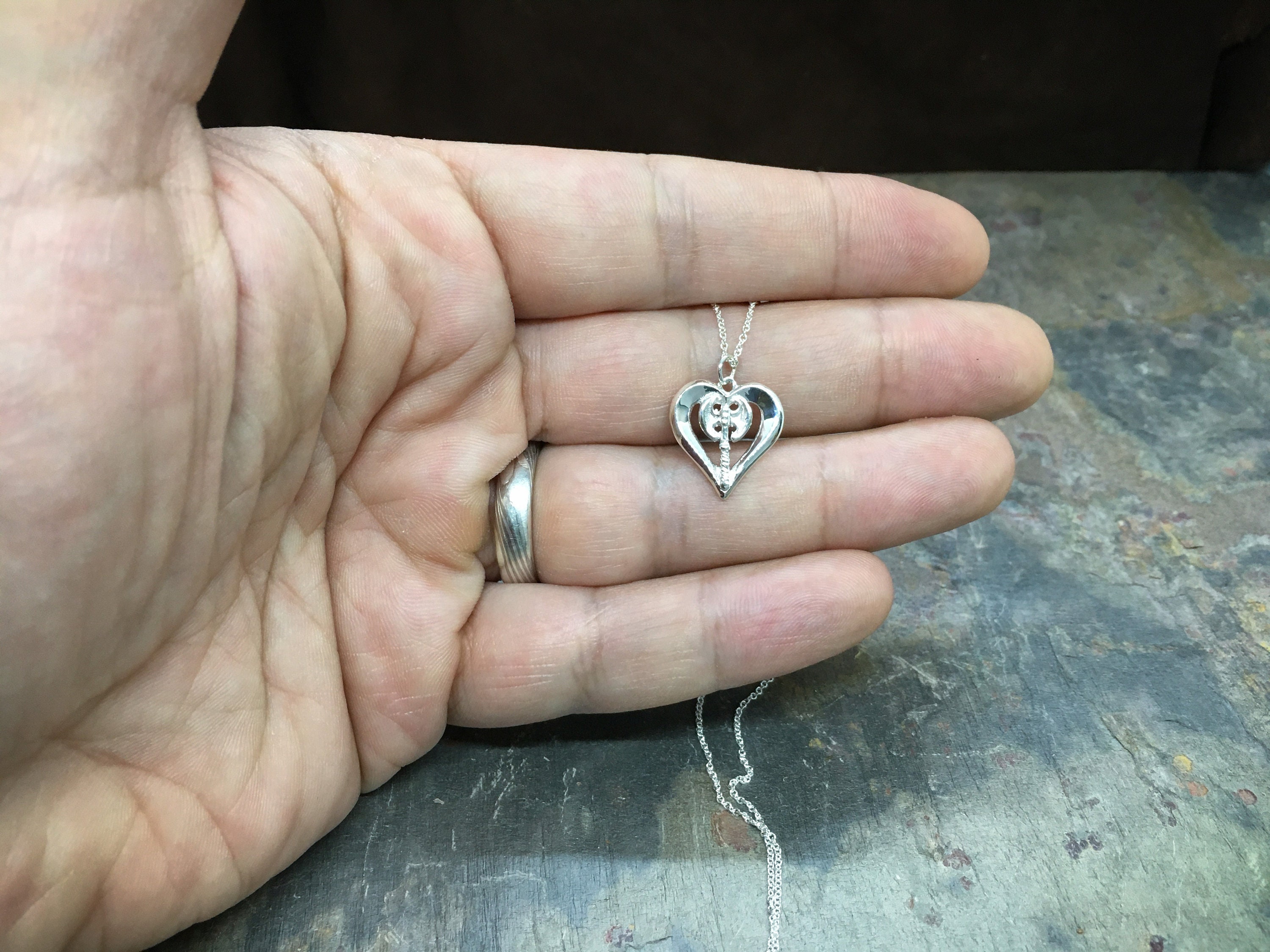 Labrys Heart Pendant in solid Sterling Silver -Wonderful for anniversary gift, gift for mom, birthday gift, wife gift or gift for girlfriend
Wonderful for anniversary gift, gift for mom, birthday gift, wife gift or gift for girlfriend. This Labrys jewelry design is inspired by a Cretan religious symbol. In this interpretation the double-sided axe or Labrys, is a weapon only accompanied by a goddesses, sometimes associated with the mythical Amazons. The design captures the strength, self-sufficiency and justice the axe represents and the wisdom, compassion and love by the heart of the women who wields it. This pendant comes on a sterling silver 16", 1 mm thick soldered cable chain with lobster claw clasp.

Pendant Details: Cast Solid Sterling Silver
• 9/16" or 10mm wide
• 10/16" or 16mm tall
• 1/16" or 2mm thick

Chain Details: Sterling Silver "solid", Style: Cable, Clasp: Lobster Claw, Soldered: Yes
• 17" long
• 1 mm thick

Quality: Fine Jewelry "meaning materials & craftsmanship, not size/weight"

Material: Sterling Silver "solid", .925

Assembly: All silver soldered connections, silver soldered jump rings and assembly is performed in house. Sterling Silver chain used in assembly is machine soldered shut.

Finish: High "mirror like" polish done by hand in house.

Markings: Back is stamped "STER"

Care: Best cleaned with a jewelry cloth (included!). Jewelry comes untreated with NO chemicals to prevent tarnishing, this is to avoid skin irritations. We encourage you find a silver polish that is safe for your skin type to keep your jewelry shining longer. Tarnish will happened naturally over time and can be accelerated by humidity(h2o), perfumes, colognes, skin creams or even sometimes ones own PH balance. But actually your skins natural oils can help keep your sterling silver jewelry from tarnishing faster. So be sure to wear your jewelry often and when your not be sure to store it in your free suede pouch to reduce oxygen exposure.

Packaging: Jewelry comes in a hunter green suede pouch with tassels and is placed in a white gift box with natural shredded packing material ready to give to that special someone or to show your spirit.
labrys heart pendant, labrys axe pendant, greek goddess, labrys necklace, Lesbian Pendant, Lesbian Necklace, lesbian pride, LGBTQ Jewelry, gift for her, anniversary gift, gift for mom, birthday gift, gift for girlfriend